AUGUST-SEPTEMBER 2019
To view past issues of the new online Temple Beth El newsletters, click here.
If you are at a Temple Beth El event, please snap some photos, add captions
and send them to randybkashi@gmail.com!
News from our Rabbi:
Three Snapshots of Rabbi Luna's calendar:
What does a rabbi do all week? This is a common question asked of rabbis so I'm dedicating my TBE newsletter column to snapshots of my rabbinic calendar. Each month I'll pick three projects or tasks that I'm working on to share with you. I've enjoyed looking over my calendar, deciding what to share, and reflecting on how I spend my time at Temple Beth El. These are just snapshots so I'm not including my regular sermon preparation, Torah study preparation, Talmud and Life class, Lunch and Learn class, Confirmation class, Religious School t'filah service and Hebrew class, Shabbat service preparation, staff meetings, pastoral appointments, hospital visits, Governing Committee meetings, pastoral phone calls, committee meetings, clergy study gatherings, etc.
This month, I'm focusing on communication. In addition to the birthday, anniversary and pastoral phone calls that I make daily, a significant portion of my time is spent being in touch with congregants and potential members.
Calls: I'm excited that we had so many potential members RSVP for our Shabbat dinner on Friday, September 13. I specifically made a point of sc
heduling Bring a Friend Shabbat a few weeks before our Shabbat dinner so that we could immediately follow up and invite our new friends to Shabbat dinner. In addition to the people who came to Bring a Friend Shabbat, I also called everyone who had come by the Temple recently or reached out to us. Some folks had visited our gift shop, some were moving to the area, some were looking for a Jewish community. After contacting 15 households, we had 10 people RSVP to our Shabbat dinner!


Over 100 people joined together for Shabbat dinner and Shabbat services on September 13.

Community Shabbat Dinner and Services
Thank you to all who sponsored the challah, plates, drinks, balloons and centerpieces to support our Religious School. A special thanks to Neena Kushner for organizing the event and

Rabbi Luna leads Havdalah for Religious School
Emails: Our Religious School is bursting with activity this fall! We've already enjoyed the first day of school, the first day of Confirmation class, a Confirmation trip to Eva's Closet, a fantastic Havdalah pajama party shul-in with games, participating in Shabbat services, and volunteering at the TBE tree planting. Upcoming we have volunteering with the High Holy Day food drive, Junior Congregation services, participating in Yom Kippur concluding services, Camp TBE for Sukkot, Smoothies in the Sukkah and the Simchat Torah Consecration celebration. As any Religious School parent will tell you, I am always sending out reminder emails about each event, encouraging families to come, and letting them know about all the wonderful upcoming activities!

Rabbi Luna leads Tot Shabbat

Texts: This year we have an increased number of families in our Learning Tree preschool who indicated on their registration form that they celebrate Hanukkah. I met with the Learning Tree director, Jesyca Virnig, to learn more about the families and then reached out to them regarding Tot Shabbat, Babies and Bagels, and TBE. I texted and/or emailed nine Learning Tree families who do not usually attend Tot Shabbat. Since it was the beginning of the school year, it was the perfect time to invite them! We had two new families attend and another three respond that they planned to come next month!
We are fortunate to have such an active and busy Temple life and each month I'm happy to invite and encourage congregants and potential members to attend and participate in our Temple community!

Warmly,
Rabbi Luna
cooking the pasta, potatoes, vegetables and salad. It was wonderful seeing our Religious School students up on the bima leading us in prayer.
Schmoovies
Monthly on Wednesdays at 5:00pm
What do you get when you cross the Schmoozers with a movie? Schmoovies of course! Enjoy an evening of camaraderie, a potluck dinner and a movie.
1. On November 6, the movie Defiance will be shown in remembrance of Kristallnacht on November 9-10 in 1938. It was the beginning of the Holocaust. We will have a special guest.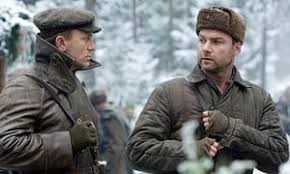 2. On December 18, celebrate almost 2020 with the musical program Under the Streetlamp – Let the Good Times Roll. Sing along and dance to some golden oldies and Jersey Boys music.3. On January 15, Unmasked Judeophobia, an award winning film about the historic origins of anti-Semitism, and how little has changed to this very day. Many Jewish and non-Jewish scholars as well as media personalities contributed to the film. A must-see.
4. On February 12, a Valentine's Day Jewish romantic comedy Crossing Delancey.
5. On March 11, Crossing the Line is about anti-Semitism on college campuses and how the students fought back. Anyone who has a college age child or grandchild should see this movie.
6. On April 15, the hilarious Jewish movie The Frisco Kid will be shown.
7. On May 13, for Israel Independence Day we will see the movie Mekonen, the story of an Ethiopian recruit in the IDF, his life in Israel, and his journey back to visit Ethiopia.
Tree Planting, Making TBE History
Start with a bagel and a "shmear" from the Men's Club, throw in Mother Nature who provided temperatures in the 90's along with high humidity….
Add in abo
ut 80 to 100 motivated volunteers from tykes of 2 years of age to folks almost in their 80's, along with Rabbi Luna, all ready to wield a shovel, "schlep" 200-250 saplings of various varieties, push wheel barrows from a full truckload of mulch and spread a ton of cardboard and do anything else to help. Oh yes, don't forget those nasty fire ants and flying insects and those special roots and rocks wherever a hole was to be dug! Mix all of this together and you wind up with the groundbreaking Tree Planting Day of Days at Temple Beth El on Sunday, Sept. 15, 2019.
Gallons, yes, gallons of cold water provided some meager relief from the aforementioned heat & humidity. Unending salty snacks replenished electrolytes lost through sweating. Homemade coffee cake and additional bagels that were provided by two volunteers and eagerly consumed by other hungry volunteers.
It was wonderful to see congregants, little kids with their beachy sand shovels, religious school students, the Temple confirmation class and our "senior" congregants all literally "digging in".

Roz Shraier hauls cardboard to use for a base for planting trees.
Click photo for additional shots. Click here to watch the News-Press video and read the news article.
There are way too many people who worked very hard in planning this major event to list here, but several people need to be recognized for their extraordinary efforts: Michele Laboda, Fabian Ruiz and Karen Kagen.
Finally, we absolutely must mention and profusely thank Wil Revehl and his wife, Rachel, and their fantastic group, OneTree.Org, for donating the trees and his corps of many volunteers who worked side by side with us. All in all, 200-250 trees were planted, watered and mulched. The balance of trees will be watered and planted as soon as possible.
So you see, it does "take a village", one made up of volunteers willing to invest in "sweat equity" for a wonderful cause. THANK YOU TO EVERYONE who was a volunteer!
- Berny Aronson
Olivia Shanti Kushner, daughter of Neena and Jonas Kushner and granddaughter of Roberta and Jeffrey Kushner was called to the Torah as a Bat Mitzvah on Saturday, August 31, 2019.

Olivia, an 8th grader and a member of the National Junior Honor Society at Paul Laurence Dunbar Middle School, loves all animals; especially dogs! She also enjoys representing the school in tennis and band, along with playing violin, learning magic tricks, skateboarding, sewing and many other craft related projects.

Olivia spent two weeks in Israel over the summer and had the amazing opportunity to read from the Torah at the Western Wall as well.
For her mitzvah project, Olivia continued a years' long collection of food, toys and other supplies for the animals at the Gulf Coast Humane Society.
Olivia is grateful to all her Hebrew school teachers at Temple Beth El, Rabbi Nicole Luna and Morah Dale Cohen for their love and support in her commitment to Judaism. Olivia enjoyed celebrating this accomplishment with her family and friends.
Religious School Events
Confirmation Community Service Day at Eva's Closet
On Sunday, September 8th, the Confirmation Class had their first field trip of the year to Eva's closet. Eva's Closet helps people in need regardless of situation or circumstance, without judgment.
They fulfill their mission by serving more than 1,000 individuals each month who are suffering from homelessness, poverty, and other risk factors in Southwest Florida. Students in the confirmation class brought donations of toiletries, clothing, blankets, and other items to the center. The students received a tour of the facil
ity, and learned about the community that Eva's Closet serves. The students then helped out by folding clothing donations and sorting them to get them ready for distribution. Prior to the visit, Rabbi Luna conducted their previous class with a discussion about consumerism. Students engaged in an eye-opening exercise about how much stu
ff they had. Rabbi then discussed the Jewish values of protecting the environment (baal taschit), not being jealous of other people's stuff (lo tachmod), and being happy with what we have (sameach b'chelko) and how they're contrary to consumerism. Rabbi Luna says, "It was fascinating hearing from the students about their motivations for buying things and what really matters to them." The students are looking forward to their next opportunity to serve their community.
One of our Special Teachers
Our youngest students in grades Kindergarten through Second Grade are taught by Mrs. Barbara Tursky. Mrs. Tursky has been a member of Temple Beth El for over 20 years and has been teaching in the Religious School just as long. When Rabbi Luna first came to Fort Myers and visited Mrs. Tursky's home, she saw her teaching certificate hanging on her wall and realized what an experienced teacher she
was for Temple Beth El. With 30 Years of teaching on Long Island and West Chester County, Mrs. Tursky is a long time educator who loves children. "I have loved every single child that I have taught, and each one has become my adopted child." Mrs. Tursky loves to sing with the children and they quickly learn her favorite songs, "Apples and Honey" and the "Latke Pancake Song". "The best part of teaching is that they also teach me, like how to skip down the halls" says Mrs. Tursky. We are excited to have dedicated staff like Mrs. Tursky returning again this year!
Havdalah and Shul-in
On Saturday night, September 7th, we held our first Shul-In from 5-11pm. The children arrived in their pajamas and quickly set up blankets and sleeping bags all over the Dubin Center. They gathered around to make spice jars to get ready for the end of Shabbat.
Rabbi Luna led the children in the Havdalah blessings and song, while they enjoyed passing around the spice
box and sharing in the sweet smell of the spices. After dinner, the children played bingo, performed improvization activities, and sang karaoke songs. Once the Sundae Bar was open, the children were excited to decorate their ice cream with many toppings. The evening ended for our K-3 students with the Rabbi leading songs in a camp circle. Our 4th-8th grade
students sta
yed until 11pm, played Kahoot, watched the movie Wonder, and enjoyed milk and cookies before leaving for the night. This evening allowed the children to socialize and build friendship bonds outside the normal confines
of the classroom.




Just for fun...some students get together for dinner out.

Save the Date! Sunday October 13th-
Camp Beth El Extended Day- Smoothies in the Sukkah 12:30-3:00
..and Happening All The Time...
Babies and Bagels- With a young family of her own, Rabbi Luna understands the desire for young Jewish families to connect. She hosts an informal Shabbat play date at her home for babies and toddlers.
Tot Shabbat- Every first Friday of the month, Temple Beth El comes alive with little voices singing the Shema and Barchu as Tot Shabbat services begin. Services begin at 6pm with a 30 minute children service followed by a family Oneg. The goal of this program is to bring young families together in unity and prayer. Our next Tot Shabbat dates are September 6, October 4, and
November 1.
Community/Family Shabbat Dinners and Services- Our first family dinner and service was Friday September 13th. Dinner always begins at 6pm followed by an early 7pm service. One of the highlights of the service is the religious school students on the bima reciting prayers and leading the congregation in song. Dinners and services are a great way for our congregants and families to commune together as part of the Friday night service.
Book Club News
As the New Year rapidly approaches, the TBE Book Club anxiously awaits your participation in our monthly discussion of books chosen by ou
r members. This year we are reading stimulating works with Jewish content as indicated on our 2019/2020 calendar which follows. New folks are always welcome every session! We hope
you will join us the first Wednesday of every month at 2:45 pm.
Our first meeting is September 4 in the Temple Library. For more information contact Carol Kaplan, Ckaplan550 @aol.com, or the TBE office.
October 2, 2019
Kaddish.com

by Nathan Englander
Reviewed by Russ Bogen

November 6,2019
The Rebbe
by Joseph Telushkin
Reviewed by Judi Bayer

December 4,2019
My Mother's Son
by David Hirshberg
Reviewed by Carol Kaplan
Mitzvah Committee News
The TBE Mitzvah Committee needs YOU!
Volunteering is a great way…

… to meet people
…do good things
…learn about our congregation
There are opportunities to fit all time schedules and interests.
You can help once, periodically or on an on-going basis.
CHOOSE A MITZVAH OPPORTUNITY:
Donate to our food drives for the Jewish Federation food pantry:
Please bring in reusable large tote bags for handing out bundles of food.
Donate cash/check to be used to purchase food from the Harry Chapin Food Bank at 10¢/pound of food in the event the Federation food pantry runs low.
Donate non-perishable food at TBE and help weigh, track and deliver it to the Federation. Check their email blast for a list of what is most needed each week.
Help unload and shelve food from the Midwest Food Bank-Florida Division at the Federation on 1st Tuesdays/month at noon: sign up by calling Jodi Cohen at 239-481-4449 ext. 2
Sign up to be a substitute packer/shelver:
Get on the list by contacting Jodi Cohen at
239-481-44 ext. 2



Mitzvah Committee and friends put together the TBE HHD Food drive bags: Russ Bogen, Carolyn Gora, Irwin Kash, Hilary Kobrin, Jerry Kobrin, Paul Lewis, Tobi Morgan, Laurie Morris, Sue Osin, Lind Diamond Stein and Judy Zfaz. Thanks to Karen Karen and the office staff for preparing everything. The bags will be handed out after Rosh Hashanah services with the help of the Confirmation class.
In partnership with Sisterhood, participate in Cycle Forward (CycleForwardNow.org) to provide
...women's personal care products (tampons and pads)
...by donating and/or help transport the collections to
15+ sites.
Serve on the Mitzvah Day team to plan & organize
Mitzvah Day on Jan 26, 2020.
The TBE Caring Visit program: Make 1:1 visits
with congregants who request your company.
Israel Connects: English language mentoring, engaging in weekly English conversation with a junior high school student in Israel via Zoom. The Israeli Departments of Education and Tourism provide a thorough curriculum.
Habitat for Humanity: Join the project we are currently developing.
Israel in the News: Identify articles about cultural & innovative news from Israel for the TBE newsletter and other media.
Israel Sister City Hadera: Expand and develop new connections with our sister city, Hadera.
The Matzoh Ball: Add your creative ideas to the Matzoh Ball celebration, scheduled for Dec 24, 2019.
Join the Inclusion and Comfort Team: Help plan and organize next steps to make TBE as physically inclusive and comfortable as possible for our congregation & visitors by creating a community where people of all abilities are welcomed to fully participate in congregational life.
Contact us via email: tbemitzvahcommittee@gmail.com
or attend a Mitzvah Committee meeting (2 PM every 2nd Tuesday of the Month), and be a part of building more programs for social caring, social action and social justice to benefit our congregation, our Southwest Florida community and beyond, and strengthen our bond with Israel.
Israel in the news: Click on the headlines
Five promising Israeli treatments for migraine headaches
Eight Israeli products to keep your pets safe, clean and happy
Cemetery Committee News
The Cemetery Committee is happy to let everyone know that the Sign at our TBE Garden of Memories Cemetery is finished and installed. It looks like new and we want to thank Eric Dochinger for finding us Richard who did all the work and install on the sign.
Audio Visual Team News

The Audio Visual Team was created about six years ago in order to project the Friday night Shabbat service onto the large 100 x 100 screens in the Sanctuary. By projecting the service onto the large screens it would make the viewing much more enjoyable for the Congregation seated in the Sanctuary.
This worked out so well that we decided to expand our viewing audience and bring the service to those who could not attend the service for whatever reason. TBE entered into a contract with Livestream so that we could project our Shabbat services to anyone who has access to the internet. All you have to do is click on templebethel.com, and then click on watch live, and you will be watching the service live. We start broadcasting at 7:30 pm every Friday night. If you can't be with us live, then join us on livestream.
About five years ago, we decided to expand another part of our service to the temple members. We started recording and creating CDs of the Temple kids Bat and Bar Mitzvahs for a small fee. This provided us with an income to maintain and update our equipment without using any funds from the Temple. If you have any kids that are getting Bat or Bar Mitzvah be sure and have us video tape the event. You will love the final product. It becomes a memory of a lifetime. This past month we passed the milestone of recording the 50th cd. Fantastic. This is a once in a lifetime event. Let us bring it to life and record it for you.
The Audio-Visual Team Needs You!
There are many who contribute to the spirituality and enjoyment of the TBE Friday night and special event services, but one small team truly operates "behind the scenes". The Audio-Visual (AV) team maintains the projectors, the sound equipment, the PCs and the other AV equipment necessary for the congregants inside the Sanctuary, as well as remotely, to be able to participate in the service. In addition, the recording of Bar/Bat Mitzvot is a blessing to the families and friends.
The AV Team is part of the TBE Men's Club, who provides the funding for the equipment and maintenance, as do other supporting groups. Current members of the AV Team are Richard Chaet ("the boss"), Larry Rosenberg ("the assistant") and Lance Kann ("the apprentice"). Together we support each other, have fun, and ensure there is coverage every week.
We need volunteers (YOU!) to learn the equipment and the production process. NO high technical experience is required!! If you can commit to support us even once a month for Shabbat Services, it would be greatly appreciated. Please contact Rich at richch8@earthlink.net and/or Lance at lancekann@yahoo.com if interested.
Richard Chaet, Lance Kann, Larry Rosenberg
Audio Visual Team
Senior Serenaders
Senior Serenaders is a volunteer musical group of 4 instrumentalists and 6 singers, as well as two or more hostesses who help out. We perform timeless music at many senior residences in Fort Myers, songs that most can sing along to, and we are from all religious backgrounds. Some are members of Temple Beth El, and we are grateful to be able to rehearse in its lovely sanctuary. When we have been sent donations as thanks, we have used them for Temple Beth El needs.
Membership Team News
Our Bring A Friend Shabbat was great fun with many new faces and current members to greet them. All congregants were membership ambassado
rs and very welcoming. Many smiles were seen all around. We would like to repeat the Bring A Friend Shabbat before Passover, and yearly both before High Holy Days and before Passover, good times to attract guests.
Community Dinner Sept 13 - This was yet another fun social event before services. Families particularly enjoyed the 6:00p Community Shabbat Dinner and early Shabbat Service. Thank you to Neena Kushner for organizing!
Look for your Membership Team's booth at the SWFL Pride Festival - October 5th 11:30am - 6pm. And manning the TBE membership booth is a great opportunity to sit and get to know new friends. Please email Randy at randybkashi@gmail.com to sign up for a slot.
Our New Member Brunch is March 15 at 11am. More to come in the near future!
Beautiful new mini-folders with the TBE logo on them will hold freshly designed TBE membership materials for prospective members. And new members will soon be welcomed with a TBE mini-tote filled with materials and items to keep Temple Beth El close at hand.
The Membership Team welcomes Linda Sweet, and is also very proud of our new Temple Beth El members:
New Members As of August 1:
Rayne Golay & David Wallace
Howard and Mindi Weinstein
Security Committee News
Yet another topic for your protection:

Checking Your Child's Credit Report
Most of you assume that the most vulnerable group of citizens to experience identity theft are seniors, yet recent reports from law enforcement indicate that the fastest growing population at risk for identity theft are actually children!
While adults make prime targets for identity thieves, a child's "blank slate" can enable a criminal to do more long-term damage before anyone catches on. Why? Because a child has a social security number assigned to him/her shortly after birth, but that number lays dormant until they are old enough to work, apply for a credit card, buy a car or rent a place to live.But, there is some good news: young people now have more protection from identity theft and fraud than ever before. As a parent or legal guardian, you can check your child's credit report by contacting each of the three credit bureaus.
A credit report is in reality a record of one's credit activity and credit history, including extended credit in the form of credit cards, loans, delinquent accounts, and foreclosures. In addition, you can request a credit "freeze" for your child that will prevent lenders from checking their credit in order to open a new account. Think of it as having a padlock on your child's credit report.
For information, you should visit these websites or call the number below:
www.experian.com or call 1-888-397-3742
www.equifax.com or call 1-800-525-6285
www.transunion.com or call 1-800-680-7289
Presented by your Temple Beth El Safety & Security Task Force
Adapted from an Advisory by Lee County Sheriff Carmine Marceno)
Editor's Note: The Temple Beth El online newsletter will continue from this point as an every-other-month publication. The next issue will be published in mid-November. Your articles and photos of TBE activities are gratefully accepted and relied upon as the sole content. Regretfully, political and personal opinions cannot be published. If you have nachas, please send brief articles; with enough support, a new section will be considered. Any other suggestions and ideas would be
appreciated. Articles will be organized from top to bottom on a first-sent basis. Please type articles in a word processing program (using our web font would be helpful but not necessary: Georgia 18 pt) with no formatting other than line spacing, just indicating where you would like bullets in your notes. Many thanks for all of the positive feedback!
-Randy Kashi, Designer/Editor
TBE Web Team
Wed, November 25 2020 9 Kislev 5781